Hieronymus Bosch
Online
All Links Verified &Updated 7/4/06
This is the most comprehensive collection of links to Hieronymus Bosch
sites on the internet. I will be updating it frequently. If you know
of a good Bosch site that is not included here, write to me at
the address given at the bottom of the page.
---
Books and Articles on Bosch
S. F. Writer Damon Knight' Book on Bosch
Bosch Books at Amazon.com
Extensive list of books about Bosch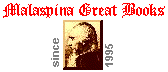 Buy Wilhelm Fraenger classic out-of-print book
about Hieronymus Bosch
Lynda Harris &
The Secret Heresy of Hieronymus Bosch
Roger van Horsen's Essay on Bosch
John H. Leinhard Article on Bosch's Demons
James Drinard's Poetic Analysis of Bosch
Mr. Drinard makes even Bosch seem humorous!
Scan down the page to read this delightful poem!
---
Bosch Galleries and Images
BoschUniverse.org
A wonderful website with lots of diverse data about Bosch,
including a link to information about his home town.
BoschUniverse's Bosch Image Generator!
Create your own printable Bosch painting!
The instructions are in German, but
they're easy to figure out.
Bosch at Mark Harden's Artchive
Orazio's Bosch Images

Bosch at the Virtual Gallery
Bosch at the Web Gallery of Art
Bosch at Carol Gerten's Fine Art
Hieronymus Bosch's Art Gallery
Bosch at the National Gallery Of Art
Bosch Fanlisting
This is an online Bosch fan club with lots of data, images,
and opportunities to communicate with other Bosch fans.
Akademie der Bildenden Künst, Vienna (in German)
artonline (in Italian)

15'th Century Art Links
Very Extensive
---
Buy Bosch Reproductions
Figurines &Tarot Cards Online
Buy Detailed Figurines of Bosch Creatures!
You have to see these fantastic 3-D reproductions!
More views of the Bosch Figurines
Bosch Tarot Cards at Aeclectic Tarot
---
Alchemy
Alchemy Website
Very Extensive Data on this Medieval Topic
---
Ergotism
Were the strange images in Bosch's paintings influenced
by the artist's familiarity with the symptoms of ergotism?
Learn about this fascinating affliction!
George Barger on Ergotism in the Middle Ages
Ergotism and the Salem Witchcraft Outbreak

---
Medieval Resources
Fordham University's Medieval Source Book
---
Contact me at:
anubis4_2000@yahoo.com
Your comments are welcomed!
Go Back to The Symbol Key Page